What are you competing for?
Are you seeking excellence in the things that really matter?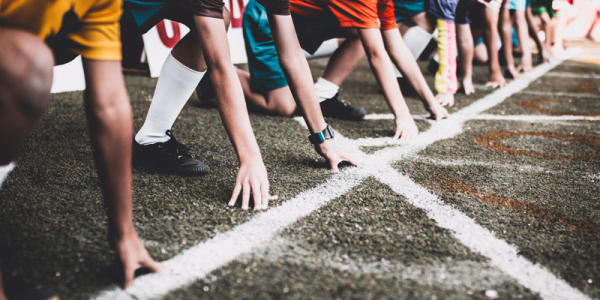 Competition can be a big challenge for young people (and probably for older ones as well). The need to be "the best." The one to have the funniest jokes, the one to score the most goals, the one to be the most unique, etc. The need to stand at the top of whatever it is that they are doing. What is the right stance to take on this attitude, as a Christian whose desire is to wholeheartedly live for God?
What are you competing for?
It's not a bad thing to have some competition. It's good to set yourself goals, to see how high you can reach, to do your very best, or have friendly rivalries to challenge yourself.
But test yourself. Why are you doing it? Because of pride, envy, greed, selfishness, malice, or contention? Because you care too much how people think of you? Make sure that your actions are not ruled by the lusts of the flesh! When we are struggling to rise to the top, does that mean that we are trampling others down to get there? As in everything else, we need to find if there is sin behind our actions, and then cleanse that out.
"Therefore, as the elect of God, holy and beloved, put on tender mercies, kindness, humility, meekness …" Colossians 3:12.
Continue reading below ↓
Like what you're reading?
Why does everything have to be a competition?
Very often, though not always, the need to compete comes from feelings of inadequacy, or low self-esteem. We have to prove, at least to ourselves, that we are the best at something, in order to feel like we are worth something. Another reason can just be simple pride. Also manifested in the need to be the best.
The truth is that there is only one thing that we have to prove in life, which is that we have a burning hot love for Christ. "But what things were gain to me, these I have counted loss for Christ. Yet indeed I also count all things loss for the excellence of the knowledge of Christ Jesus my Lord, for whom I have suffered the loss of all things, and count them as rubbish, that I may gain Christ." Philippians 3:7-8.
Can we learn to see all things – including our good name, how people see us, our ego – as loss and rubbish compared to the excellence of gaining Christ? What could have more worth than that?
Don't allow sin to pressure you. You don't need to "be" anyone. It isn't important what people think of you based on your "accomplishments." What is important is that we can stand before God's face and know that we have no sin on our conscience. That we are pure and blameless. That will give us true worth in the kingdom of heaven.
"And whoever exalts himself will be humbled, and he who humbles himself will be exalted." Matthew 23:12.
What is the alternative?
Here's a Biblical alternative that is really worth competing for:
"Do you not know that those who run in a race all run, but one receives the prize? Run in such a way that you may obtain it … now they do it to obtain a perishable crown, but we for an imperishable crown." 1 Corinthians 9:24-25.
Do you see that imperishable crown as the thing to be won at all costs? Do all things heartily as to the Lord, in a way that does not allow sin to live! Find where you are full of self-seeking and pride, and overcome that and rather seek the other's best. Seek excellence in the things that really matter. Seek to be "the most" loving, generous, kind, etc. Do all that you do so that God is glorified and sin is overcome.
Wouldn't it be amazing if we were to compete to have the most virtue? To be the humblest, the most loving, the most selfless, etc.? What a world that would be, with everyone competing to be more like Christ!
"Let nothing be done through selfish ambition or conceit, but in lowliness of mind let each esteem others better than himself. Let each of you look out not only for his own interests, but also for the interests of others." Philippians 2:3-4.
How do you become free to live like that?
Through prayer, asking God to show you where you are living for yourself, where there is sin that is exerting itself. Through reading God's Word so that He can reveal to you the right way to do things, so that you can understand His will and align your life to it. By being honest about your intentions, acknowledging the truth about yourself, judging sin for what it really is, and hating unrighteousness, and overcoming it. By consciously practicing those verses in Philippians in your life.
What are the results of becoming free?
Where you were bound by pride and egotism you become free to serve and bless the others. Your treasure is in heaven instead of in the things of the earth and your lack of confidence, your self-doubt and all of those negative feelings are no longer relevant compared to what you are becoming, which is a child of God, fully equipped for good works. (2 Timothy 3:17)
People experience the goodness of Christ from your life. You become a light in this world. You can do all that you do free from the demands of sin! Your personality becomes purified and you can do everything in a good spirit, with good results that build fellowship, and create blessed, pure bonds with people without self-interest coming in between you.
Scripture taken from the New King James Version®, unless otherwise specified. Copyright © 1982 by Thomas Nelson. Used by permission. All rights reserved.