What does it mean to suffer in the flesh?
"… he who has suffered in the flesh has ceased from sin." These are well-known words, but do we actually understand what that means for us in our day-to-day lives?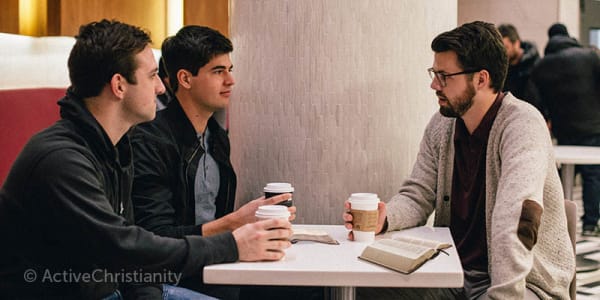 "Therefore, since Christ suffered for us in the flesh, arm yourselves also with the same mind, for he who has suffered in the flesh has ceased from sin, that he no longer should live the rest of his time in the flesh for the lusts of men, but for the will of God." 1 Peter 4:1-2.
From the above verses, three things become obvious:
That we ourselves must suffer in the flesh in order to cease from sin – it wasn't just Christ who suffered for us.

That it is only through suffering in the flesh that we can cease from sin.

That it is truly possible to cease from sin and do the will of God.
Christ suffered in the flesh
When Peter wrote that "Christ suffered for us in the flesh," he wasn't referring to Christ's physical sufferings. It is clear that physical sufferings alone do not lead a person to cease from sin. We can see that from numerous examples in the world around us and throughout history.
No, Christ suffered in the flesh when He came in the likeness of man, shared in the same flesh and blood as the children, and was tempted in all points as we are, yet without sin! (Philippians 2:7; Hebrews 2:14; Hebrews 4:15.) It was in this human flesh and blood that He was found obedient to the point of death. And He learned this obedience by the things which He suffered. (Philippians 2:8; Hebrews 5:8.)
We find evidence of this suffering when He cried out to His Father with vehement cries and tears, when His sweat fell like great drops of blood, so intense was His battle in temptation. (Luke 22:41-44; Hebrews 5:7.) Yet, throughout His sufferings, His whole desire was, "Father … not My will, but Yours, be done." There was a great battle and suffering that took place in Jesus so that this would be accomplished. And the result was that He overcame His own will, so that the will of His Father could be done on earth, as it is done in heaven. (Matthew 6:10.)
"Then I said, 'Behold I have come – in the volume of the book it is written of Me – to do Your will, O God." Hebrews 10:7.
Read more here: "Your will be done!"
Continue reading below ↓
Like what you're reading?
We are to suffer in the flesh
Now it is our turn to suffer in the flesh, so that we can cease from sin. Jesus also makes this clear when He explains who can be His disciple (pupil or follower): "If anyone desires to come after Me, let him deny himself, and take up his cross daily, and follow Me. For whoever desires to save his life will lose it, but whoever loses his life for My sake will save it." Luke 9:23-24. (Luke 14:26-27.)
We meet these sufferings in the time of temptation, when we have the mind of Christ that "not my will, but Yours, be done," but we find that our flesh does not easily give up its passions and desires. (James 1:14; Galatians 5:24.) Then, just like Jesus, we have to cry out for help. We too have to learn obedience through these sufferings (that is, when we suffer in the flesh).
But the incredible thing is that because Jesus has gone through the same thing, yet without sin, He knows and understands the temptations and sufferings that we face. And because of that He is able to aid us when we are tempted. (Hebrews 2:17-18.) "Let us therefore come boldly to the throne of grace, that we may obtain mercy and find grace to help in time of need." Hebrews 4:16.
The help we get is the power of the Holy Spirit that enables us to deny ourselves and take up our cross, which quite simply means to say "No!" to each temptation, faithfully, over and over, until the temptation has been overcome. No, again and again, to our own will; to the lusts and desires of the flesh. When these desires are denied, it hurts. This is what it means to suffer in the flesh. But when we do this faithfully, when we resist temptation without relapse, we little by little cease from sin in that area.
Read more here: 12 Bible verses that prove Jesus was a man we can follow
The results of suffering in the flesh
The glorious result of suffering in the flesh is what is written in the end of the verse. We no longer have to live according to our lusts, but can live according to the will of God. We no longer fulfill the lust of the flesh, but we walk in the Spirit, which leads us in the will of God, to gain the fruit of the Spirit as our own nature. We grow in love, joy, peace, longsuffering, kindness, goodness, faithfulness, gentleness, self-control. (Galatians 5:16-25.) We cease from sin and we gain divine nature! (2 Peter 1:4.) We become disciples, followers, of Jesus. In fact, He wants us to become His brethren!
"For it was fitting for Him, for whom are all things and by whom are all things, in bringing many sons to glory, to make the captain of their salvation perfect through sufferings. For both He who sanctifies and those who are being sanctified are all of one, for which reason He is not ashamed to call them brethren …" Hebrews 2:10-11.
It is because of this promise and joyful hope that we can say together with the Apostles:
"For our light affliction, which is but for a moment, is working for us a far more exceeding and eternal weight of glory, while we do not look at the things which are seen, but the things which are not seen. For the things which are seen are temporary, but the things which are not seen are eternal." 2 Corinthians 4:17-18.
"… and if children, then heirs – heirs of God and joint heirs with Christ, if indeed we suffer with Him, that we may also be glorified together. For I consider that the sufferings of this present time are not worthy to be compared with the glory which shall be revealed in us." Romans 8:17-18.
"Beloved, do not think it strange concerning the fiery trial which is to try you, as though some strange thing happened to you; but rejoice to the extent that you partake of Christ's sufferings, that when His glory is revealed, you may also be glad with exceeding joy." 1 Peter 4:12.
Scripture taken from the New King James Version®, unless otherwise specified. Copyright © 1982 by Thomas Nelson. Used by permission. All rights reserved.