Soul vs. spirit: What is the difference?
Every individual has both a soul and a spirit, given by God. What separates the two, and how do they affect us?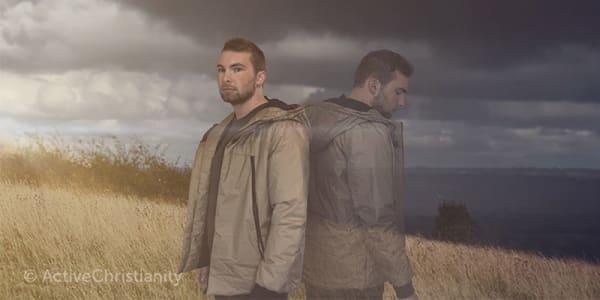 "For the word of God is living and powerful, and sharper than any two-edged sword, piercing even to the division of soul and spirit, and of joints and marrow, and is a discerner of the thoughts and intents of the heart." Hebrews 4:12.
What is the difference between soul and spirit?
Adam was created from the dust of the earth and became a living soul. Because of this, our senses, which are contained in our souls, are attuned to the earth. That is why our feelings shift and change according to what is happening around us. Everything that is of the earth is unsteady and changeable, which is why a person who allows their soul to control their life is never at rest. Through the soul – through my senses and feelings – I am in contact with people. Someone who lives according to the soul is always in unrest with regard to what other people think and say about him.
Through my spirit I am in contact with God. However, when I am soulish I live according to my understanding, my senses, which are earthly, and my body is used to serve this world. Then my spirit is also filled with that which is of this world, with the result that I have little or no contact with God. Salvation in Christ is meant to change this relationship so that I become spiritual and heavenly instead of soulish and earthly. The result is a life of faith instead of a life according to my human understanding.
The intention is that our spirit is to be made alive so that God can speak to us; we should live for Him and for the heavenly things. Then we find rest for our souls. The heavenly things are eternal and unchangeable. When we live before God's face, we are free from people and the unrest that comes from living before their face.
Continue reading below ↓
Like what you're reading?
God's Word: A two-edged sword
This is where God's Word is to do a work in us. It is sharper than any two-edged sword. It pierces and divides between soul and spirit and discerns the thoughts and counsels of the heart. This is written in connection with entering into rest.
We usually judge situations according to our feelings and human reasoning; but if I have begun to seek God, I open myself to God's Word. It discerns the thoughts of the heart and pierces and divides between soul and spirit – between that which is earthly (human) and which I absorb in my soul, and that which is spiritual and heavenly, which I receive into my spirit. I have to believe the Word and be obedient to it, and then my soul is poured out. (Isaiah 53:12)
For example, the word "Overcome evil with good" goes right against our human feelings and our human reasoning; but if we believe the Word and are obedient to it we enter into rest. Then we will experience that God's wisdom is greater than our senses. There is also the word to forgive the person who sins against you seven times seventy each day. If you are soulish, you will preserve that which is earthly, and your honor and your heart will make plans as to what you should do with such a person and you will also seek the opinions of family and friends. Rather let God's Word in to pierce and divide between what you are absorbing through your senses – especially through your feelings – and the wisdom that is from above, which you absorb through your spirit. Live by faith and not according to your human reasoning; then you will enter into rest.
Becoming spiritually minded
Peter cared for Jesus, but he only had a sense for the things of men, which is to spare yourself and your own. This is the direction in which people have exercised their senses and have gained understanding. Satan has access to this earthly soul, and the result is a terrible unrest. Jesus said, "Get behind Me, Satan!" Jesus had a sense for the things of God, which was to lay His life down. Now He wants to make our spirit alive as well so we can receive the wisdom that is from above, which is first and foremost pure, etc. (James 3:17-18)
The result is a life of faith in which we hold fast to the Word against our own human reasoning and present our body in the service of God. Then our soul, which is earthly and restless, is poured out, and we become spiritually minded and enter into rest in God.
"See that you do not refuse Him who speaks … from heaven. … Therefore, since we are receiving a kingdom which cannot be shaken, let us have grace, by which we may serve God acceptably with reverence and godly fear." Hebrews 12:25,29.
All unrest, complaining, sighing, and anxiety stems from the soulish man who fights for his life. The spiritual man lives by faith in God's Word. All things serve him for good. He has a mind for laying down his life, and he rests in God. What a glorious life and peace this is – a kingdom that cannot be moved.

This is an edited version of an article that was first published in Norwegian under the title "Pierces and divides soul from spirit" in BCC's periodical Skjulte Skatter (Hidden Treasures) in August 1955.
© Copyright Stiftelsen Skjulte Skatters Forlag
This post is also available in
Scripture taken from the New King James Version®, unless otherwise specified. Copyright © 1982 by Thomas Nelson. Used by permission. All rights reserved.