Mary and Martha: Getting our priorities right
Am I a Mary or a Martha when it comes to my relationship with Jesus?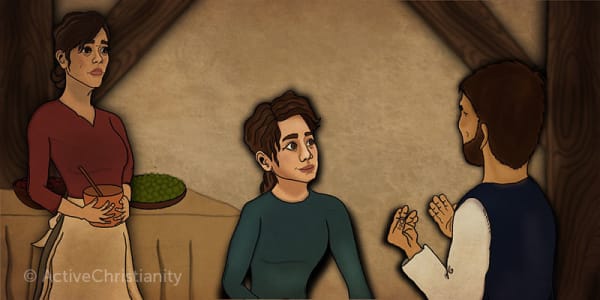 This is the story of two sisters.
Mary and Martha were close friends with and followers of Jesus. Together with their brother Lazarus, they hosted Jesus in their home on more than one occasion. Yet, on one such visit from Jesus, they chose two very different actions, and the way that Jesus reacted to their choices is a very valuable lesson for us today. Let's review the story (Luke 10:38-42):
Martha is worried
Martha was rushing around, serving and doing her best to make everything good for their beloved guest. And where was Mary when Martha needed a hand? She chose to sit at Jesus' feet, listening as He spoke.
It's pretty easy to imagine how that made Martha feel. Irritated, frustrated, resentful. Why should she be doing all the work? Wasn't it only righteous for Mary to be helping out? In fact, Martha felt so justified in her indignation that she went and talked to Jesus about it. "Lord, do You not care that my sister has left me to serve alone? Therefore tell her to help me," she said to Him.
But, instead of backing her up in her demand, Jesus rebuked her! "Martha, Martha, you are worried and troubled about many things. But one thing is needed, and Mary has chosen that good part, which will not be taken away from her."
This must have felt like a slap in the face for Martha. Here she was, doing everything in her power to be hospitable and make it good. And Mary just sat there, and what she was doing was the right thing?
Sound familiar?
Continue reading below ↓
Like what you're reading?
Getting our priorities right
It can become so easy for us to get wrapped up in all the things we need to do and the things that need to be accomplished that we lose sight of what the most important thing is. Isn't it possible that we can get too wrapped up in the cares of life? Jesus makes this even more clear in the parable He told about the sower. "He who received seed among the thorns is he who hears the word, and the cares of this world and the deceitfulness of riches choke the word, and he becomes unfruitful." Matthew 13:22.
The highest priority in our lives needs to be choosing the good part, as Mary did: to learn of Jesus so that we can become like Him. It's a love and devotion to Him that makes everything else of secondary importance. It is to seek the riches of wisdom and understanding that are in Him. If we don't do this, how can we follow Him, how can we be His disciples? A disciple learns of the Master.
This is not an excuse to be lazy, and not take responsibility for anything. That is another trap entirely. We are to be doers of the Word, and not hearers only! (James 1:22) But what we do has to be led by the Spirit, whose voice we learn to hear by choosing the good part. There is no blessing in running our own lives based on our human understanding of what is important. Mary understood that she needed to learn more of her Master and to seek the things that have eternal value. It's when we do that that we can be a blessing, because then all of our works are Spirit-driven. Love causes us to listen, to learn, and to keep His commandments. (1 John 5:3)
"My sheep hear My voice, and I know them, and they follow Me." John 10:27.
Take heed to yourself
We can be in danger of falling into the same trap that Martha did. We can be so troubled by what we perceive as negative behavior in others, and become so self-righteous in our good works that we start to judge others for not doing as we do. Satan is the one behind these kinds of thoughts. He whispers lies and accusations, trying to create as much conflict as he can. His aim is to lead people as far in the opposite direction of "the good part" as he possibly can – to lead them away from Jesus. To listen to him and agree with him leads to all kinds of unrest and trouble and worry. We need to slam the door on his deceitfulness!
"Take heed to yourself and to the doctrine. Continue in them, for in doing this you will save both yourself and those who hear you," it's written in 1 Timothy 4:16. Only that will do us any good in life. The wrong choice that Martha made wasn't that she was serving and doing good. It was that in her work she had demands and criticism on Mary, rather than doing what Jesus taught herself! If we are living before the face of God, we have no cause to look around at what others are doing and feel that we have a right to pass judgement on them. We live in obedience to the Spirit's promptings in our own lives, and what others do is none of our business. We don't know how He is leading others.
Let's rise above all the noise and pursuits of this world and seek those things which have eternal value. Like Mary, let's find that fellowship with the Master and with those who follow Him so that we can learn of Him and become like Him. Through the Word of God, fellowship, and prayer we become rich in our spirit, and God will give us everything we need in abundance.
"Finally, brethren, whatever things are true, whatever things are noble, whatever things are just, whatever things are pure, whatever things are lovely, whatever things are of good report, if there is any virtue and if there is anything praiseworthy—meditate on these things." Philippians 4:8.
This post is also available in
Scripture taken from the New King James Version®, unless otherwise specified. Copyright © 1982 by Thomas Nelson. Used by permission. All rights reserved.