Humility vs. low self-esteem: What is the difference?
You should never feel worthless.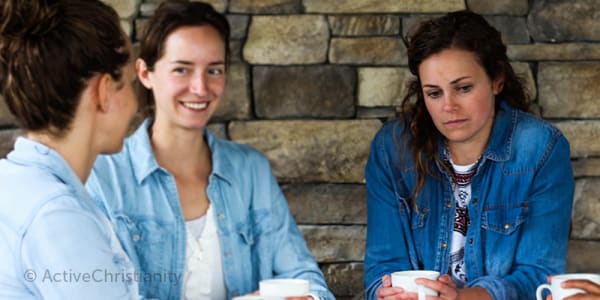 Growing up as a Christian, there was always a lot of emphasis placed on being humble. I remember clearly what I thought about humility in my school age years. I was a high achiever, and near the top of my class. But I was determined to be "humble" so if I didn't get 100%, I would diminish my achievements and tell myself, "You can do it better." I pushed for perfection, thought I wasn't good enough until I got it, and I actually did a fair amount of damage to my feeling of self-worth without realizing it, ending up with low self-esteem.
All of this was in the name of "humility." I did well in school, but outside of classes I spent a lot of time alone, often feeling invisible among my peers, and looking up to those who were "popular" and who seemed so confident.
It's not about feeling worthless
Low self-esteem is characterized by a feeling of worthlessness. When I was in my teens, I remember reading Romans 7:18, "For I know that in me (that is, in my flesh) nothing good dwells …" I thought at the time that was a good reason to put my accomplishments down. But as I started to comprehend what real humility is, I understood what Paul actually meant. He says "in my flesh, nothing good dwells." That doesn't mean that I am a bad person, but that sinful tendencies are a part of my nature.
True humility isn't feeling worthless. What it does mean is that I place all my confidence in God and His abilities, instead of being limited by blind belief in my own abilities or disabilities. It is giving up my own will and ideas when I see they are tainted by that tendency to sin in my nature, and instead carrying out His will. He is Almighty, and can give me everything I require to do that! I understand that there is nothing good that dwells in my sinful nature, but am also full of faith and confidence that God is able to do a transforming work in me!
Continue reading below ↓
Like what you're reading?
What God can do in my life
When a person has low self-esteem they are usually afraid to let themselves be heard. They constantly compare themselves to the others, and always believe that they are not as good as those around them. They need constant reassurance and focus on themselves and their weaknesses. By giving in to these thoughts they don't take into account what God can do in their lives.
But if I am truly humble, I understand that humility is not thinking that I am useless, but knowing that the gifts and talents I do possess come from God and are nothing to boast about. It is written in Psalms 139 that God has prepared works for me to do, works that no one else can accomplish. The question is whether I find these tasks and use what God has given me to carry them out. Then He can be honored in everything I do. I can be confident and at rest, no matter whether the tasks I have are seen by people or are completely hidden.
When I serve God, then I also have the boldness to serve the others in the way that is best for them, even if they don't always understand what I am doing. If I hear God's voice and seek His will, then I can gain wisdom in my situations and be free to do what is most suitable for myself and for the others without being bound by fear.
In quietness and confidence
Humility is characterized by a firm understanding and conviction that God created me just as I am, with my personality, my strengths and my weaknesses and that He has a plan for my life. Once I had a better understanding of humility, the verse in Isaiah 30:15 became a slogan for me: "… In quietness and confidence shall be your strength …" I came to understand and appreciate my quiet nature. I revelled in the opportunities to spend time alone and to learn to know God as a loving Father and personal friend. And I learned to be confident that He would help me, especially in situations where I didn't have the natural abilities to be successful. I learned to be content with the way He made me, and to seek out those works that He had prepared just for me.
And I learned to appreciate those outgoing ones who seemed to have all the qualities I lacked. They, in their own way, were able to do works that complemented mine, and I saw that together we could create a greater whole.
Humility: A weapon against low self-esteem
There are times when that low self-esteem shows itself inside of me. But now I know what to do with those thoughts because humility is actually a tremendous weapon against low self-esteem. It sees and acknowledges the truth about what dwells in my sinful flesh, but at the same time is full of hope to become full of God's nature, both here on this earth and for all of eternity.
This post is also available in
Scripture taken from the New King James Version®, unless otherwise specified. Copyright © 1982 by Thomas Nelson. Used by permission. All rights reserved.