David: How to defeat a giant
How can David's triumph over Goliath be an example to us in modern times?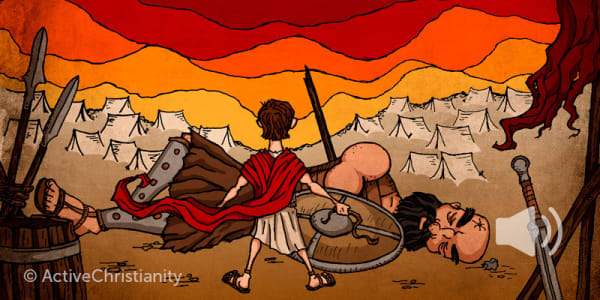 The giant's voice boomed across the valley. "I defy the armies of Israel this day; give me a man, that we may fight together."
Goliath had been issuing his challenge every morning and every evening for 40 days. It's no wonder the armies of Israel were "dismayed and greatly afraid." At approximately 9 feet 6 inches (290 cm) tall, the giant was probably almost twice as tall as any other man in the Philistine army. There's no doubt that it would have been an intimidating and fearful prospect.
Can you relate to that feeling? Maybe you too have a "giant" who has been challenging you. The giant pride. The giant discouragement. Irritation. Envy. Lusts. These can loom over you, and seem undefeatable. David showed us the right way to react when faced with a giant. His attitude when he met this opposition was, "Who is this uncircumcised Philistine, that he should defy the armies of the living God?" He was incredulous that anyone would think that they could take on an army led by God.
You can also reckon yourself a soldier in the army of the living God! These "giants" have no right to any hold over us.
Continue reading below ↓
Like what you're reading?
David is determined
David believed in the living God of Israel, that He could and would save any who battled in His name. David's faith was so strong that he volunteered to go himself and fight with the Philistine giant. He was just a young shepherd boy, with no experience of battle, and Goliath was a battle-hardened man of war from his youth, but that meant nothing to David. He wouldn't listen to the words of doubt from those who tried to dissuade him.
"Your servant has killed both lion and bear; and the uncircumcised Philistine will be like one of them, seeing he has defied the armies of the living God," he insisted. "He will deliver me from the hand of this Philistine."
God is powerful and almighty! David believed that so simply! The formidable giant was as nothing to him in comparison with what God was able to do. And that power and might are fully available to you when your giant challenges you. Believe in God. Go to Him, pray for strength, and He will give you all you need to deny the sin, overcome your feelings, and stand firm without giving in! When we meet these "foes," when we are tempted to envy or discouragement for example, we are not alone. We have the living God on our side!
Battle in the name of the Lord
The next time Goliath issued his challenge, David took his staff in one hand, and his sling in the other. Then, with full faith in the living God, he stepped forward to meet the Philistine. When he saw that David was no soldier, but just a boy with no battle gear, Goliath cursed him by his gods, but David was unmoved.
"You come to me with a sword, with a spear, and with a javelin. But I come to you in the name of the Lord of hosts, the God of the armies of Israel, whom you have defied. This day the Lord will deliver you into my hand . . . that all the earth may know that there is a God in Israel."
The stone David slung at Goliath went straight into his forehead and he fell to the ground. The great giant who had terrorized the army of Israel had died at the hands of an inexperienced youth, because of his faith in the power of God. This living faith proved, beyond a shadow of a doubt, that there was a God in Israel.
Modern day giants
By repeated attacks against those giants in your life, by faith and endurance, you too will experience that you can stand firm; there is no need to feel weak, or that you are unable to resist. The God who ensured the victory for David, will also do so for you. "You will no longer plague me, Pride! I am finished with you forever, Lusts! I come to you in the name of the Lord of hosts! This day the Lord will deliver you into my hand." It says in Samuel that David ran toward his enemy. He didn't cower or worry – he knew what the outcome would be.
When we get such a living and powerful faith in what God is able to do in our own lives, we have the same possibilities. We have the same God! We too can be living examples of what He is able to accomplish for those who trust in His might.
Believe! Endure! Don't listen to your feelings! You don't have to give in to the temptations. Thank God that the power that was available in David's days is just as strong today. When you look to the future you don't need to fear times of temptation – as a soldier in the army of the living God, you can reckon them as battles already won! The day will come when the "giants" that you see in your life will be gone forever. By our faith we can prove that there is still an almighty "God in Israel."
All biblical references are from 1 Samuel 17.
This post is also available in
Scripture taken from the New King James Version®, unless otherwise specified. Copyright © 1982 by Thomas Nelson. Used by permission. All rights reserved.