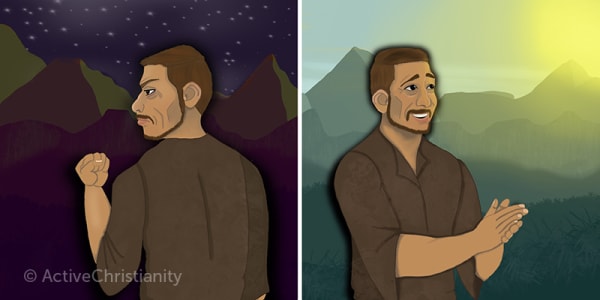 The Apostle Paul: Twice transformed
The road to Damascus was just the beginning for Paul.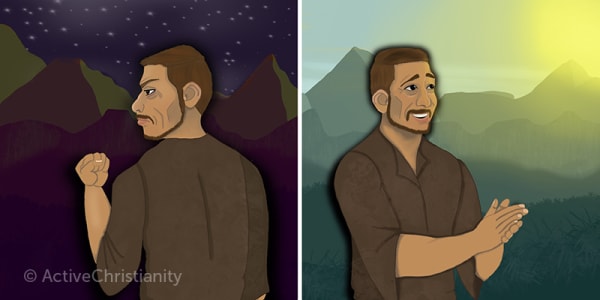 The Apostle Paul is arguably one of the best-known figures in the Bible. The letters he wrote thousands of years ago are still vital for us today. They give us life and understanding, instruction and hope. Paul's transformation is a shining example for every Christian.
The Apostle Paul says about himself that he was of the stock of Israel, of the tribe of Benjamin, a Pharisee educated at the feet of Gamaliel, who was one of the most noted rabbis in history. He could not have had more reason to be confident in his righteousness. And in his misplaced zeal for God, he persecuted the early church, whom he considered to be dangerous heretics. He arrested and imprisoned them, and was even present at the stoning of Stephen. In Acts 9:1 he is described as "breathing threats and murder" against the disciples, because of their "sin" of believing in Jesus Christ.
You might think that someone so strong in their reasoning, so entrenched in a certain way of life, so fully committed to and convinced of a cause would be unreachable. But God had a different plan for Paul.
As Paul* marched down the road to Damascus, in zealous pursuit of the Christians, he had a profound experience. Jesus Himself appeared before him as a light from heaven, forcing Paul to his knees. This personal experience of Jesus Christ effected a 100% conversion for Paul. In that moment he believed, and he went from persecutor to disciple. It says that after this experience he immediately starting preaching Christ! There was no wavering, no human reasoning, wondering if what he was doing was right. He had experienced Christ and had a completely new focus in life. His mission now was to bear Jesus name to the Gentiles, as well as before kings and the children of Israel. (Acts 9)
Continue reading below ↓
Like what you're reading?
The road to Damascus was just the beginning
Although he was born again, with a new heart, a new attitude, and a new life, Paul's conversion didn't change who he was by nature. But now he had met Christ, and his whole heart's desire was to get to know Him personally – Christ had become everything for him! His powerful testimony was: "For to me, to live is Christ, and to die is gain." Philippians 1:21.
This longing for Christ drove him to a deep humility, because he saw that everything he had as a natural person was useless to fulfill his longing. This man who had been so strong in himself, so "righteous," said, "But what things were gain to me, these I have counted loss for Christ. Yet indeed I also count all things loss for the excellence of the knowledge of Christ Jesus my Lord, for whom I have suffered the loss of all things, and count them as rubbish, that I may gain Christ." Philippians 3:7-8.
The Apostle Paul no longer saw himself as someone great, but as someone who needed to be completely changed. Because of this great humility God could now begin the work of transformation in his inner man – so that He could be conformed to the image of His Son (Romans 8:29). God revealed to him the way of the cross – the way of following Jesus in the life He lived, so that He could gain Christ personally. He says farther, "that I may know Him and the power of His resurrection, and the fellowship of His sufferings, being conformed to His death." Philippians 3:10.
Just as from the very beginning, Paul didn't waver, and he didn't try to reason his way out of what needed to be done. The New Testament is full of the Spirit that he lived in – the Spirit of overcoming sin in the flesh, so that the life of Christ could become his life. (2 Corinthians 4:10)
He testifies to this when he says: "Not that I have already attained, or am already perfected; but I press on, that I may lay hold of that for which Christ Jesus has also laid hold of me. Brethren, I do not count myself to have apprehended; but one thing I do, forgetting those things which are behind and reaching forward to those things which are ahead. I press toward the goal for the prize of the upward call of God in Christ Jesus." Philippians 3:12-14.
Revelation from God
So Paul experienced two transformations in his life! The first was at his conversion, when his heart was transformed. He described this as putting off the "old man" and putting on the "new man" – the act of a moment, an act of faith. But the second transformation was a longer process; the process of sanctification. He daily took up his cross to follow Jesus.
God was able to give him powerful revelations. His faithful obedience to live the life God revealed to him led him to be completely transformed. Because of his humility and zeal, God has been able to use the letters he wrote as the Word of God; to instruct and reveal the mysteries of godliness to generations of disciples!
Read more about what it means to take up your cross here.
Then at the end of his life Paul was able to say: "I have fought the good fight, I have finished the race, I have kept the faith. Finally, there is laid up for me the crown of righteousness, which the Lord, the righteous Judge, will give to me on that Day, and not to me only but also to all who have loved His appearing." 2 Timothy 4:7-8. He received the end of his faith – the salvation of his soul. (1 Peter 1:9)
Paul's powerful testimonies
And the best part of all is that this gospel of transformation that Paul preached, through his letters, but most importantly, with his life, is open to you and to me! Let's believe in and live these exhortations from the Apostle Paul, and follow his steadfast example:
"I have been crucified with Christ; it is no longer I who live, but Christ lives in me; and the life which I now live in the flesh I live by faith in the Son of God, who loved me and gave Himself for me." Galatians 2:20.
"And do not be conformed to this world, but be transformed by the renewing of your mind, that you may prove what is that good and acceptable and perfect will of God." Romans 12:2.
"But we all, with unveiled face, beholding as in a mirror the glory of the Lord, are being transformed into the same image from glory to glory, just as by the Spirit of the Lord." 2 Corinthians 3:18.
Can you imagine, the man who wrote these words is the same man who started off down the road to Damascus with a "holier-than-thou" attitude, persecuting believers, and on the wrong track altogether! None of us can use our background as an excuse. Thank God for the example Paul became for us, and for all that he did so that we could hear the gospel and be saved! At the end of our lives we too will be able to say "I have fought the good fight, I have finished the race, I have kept the faith," if we press on like Paul did, so that we can lay hold of that for which Christ Jesus laid hold of us! (2 Timothy 4:7; Philippians 3:12-16)
* In the early chapters of Acts, The Apostle Paul is referred to as Saul. To keep it simple, we call him Paul throughout the whole article.
This post is also available in
Scripture taken from the New King James Version®, unless otherwise specified. Copyright © 1982 by Thomas Nelson. Used by permission. All rights reserved.